Galway - Joyce Country - Lough Corrib (2006)
This area is so beautiful we just had to come back. We chose an isolated house on an isolated road on an isolated shore on Lough Corrib - in fact we didn't see anyone along our road for about 3 days. The owners lived in a nearby village and were very friendly and helpful. Tuppence took a while to settle in and relax but after a while he was wading in the lough and enjoying himself. Lough Corrib is the big lake to the north of Galway City and Galway City itself is an easy city to walk about in and relax. We also took a trip down to Limerick and spent the last afternoon shopping in Dublin - me - I went to Sinnotts Bar and watched the golf on the big screen.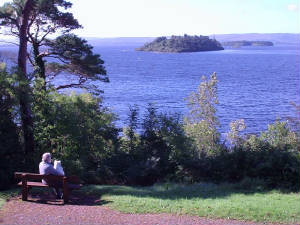 Lough Corrib - View from Ashford Castle
One of the nice things about Ireland is that there's always time to just sit, relax and enjoy the view - so that's what we did. Oh we went and had lunch at Olivers in Cleggan - beer and a fish special sitting on the verandah overlooking the harbour. We did a bit of touring about but not a lot.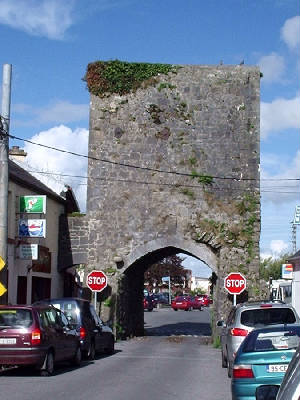 Athenry Town Walls
Saw intersting places such as Athenry (worth a look). We enjoyed Galway (swans galore on The Claddagh) and just generally wandering around and chilling.
All too soon it was time to say goodbye.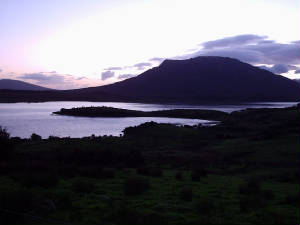 Sunset on Lough Corrib (from Doon Hill)